*New York State WIC approved stores are not required to stock all foods listed on the NYS WIC Acceptable Foods Card and the NYS WIC Foods Guide. Please contact your local WIC office for more information.
Before you head to the grocery store, plan out your trip with a few tips from the WIC pros.
Do not use your benefits before the "Not Good Before" date or after the "Not Good After" date.
Buy only the food printed on your check or listed in your WIC benefits.
Separate your food items by check and from non‐WIC foods. Each WIC check must be rung up separately by the store clerk.
Tell the store clerk you are using WIC benefits.
Show the clerk your WIC ID card.
If using a paper WIC check, make sure the clerk puts the correct price on the WIC check.
Remember – only you or your proxy may sign and date the checks at the store after the cashier has entered the total cost. Your proxy must sign the front of the WIC ID card before going to the store.
Baby food fruits and vegetables and baby food meats are listed on the check by number of jars.  Multi‐packs of baby food jars are allowed. Each jar in the multi‐pack will be counted as 1 jar. For example, a 2‐pack = 2 jars.
You have the option to combine foods from the Whole Grains category (bread, rice, & tortillas).
You can do the same with combining ounces of juice.
Use coupons, store discounts, sales, and promotions to get the most out of your WIC Checks.
Bring reusable shopping bags to save money and the environment.
Have cash and small bills available to speed up your checkout.
Bring a cooler to help keep meats, fish, milk, cheese, yogurt and other items cold during your trip.
Check out the chart below, or click here, for some quick tips on weight conversions.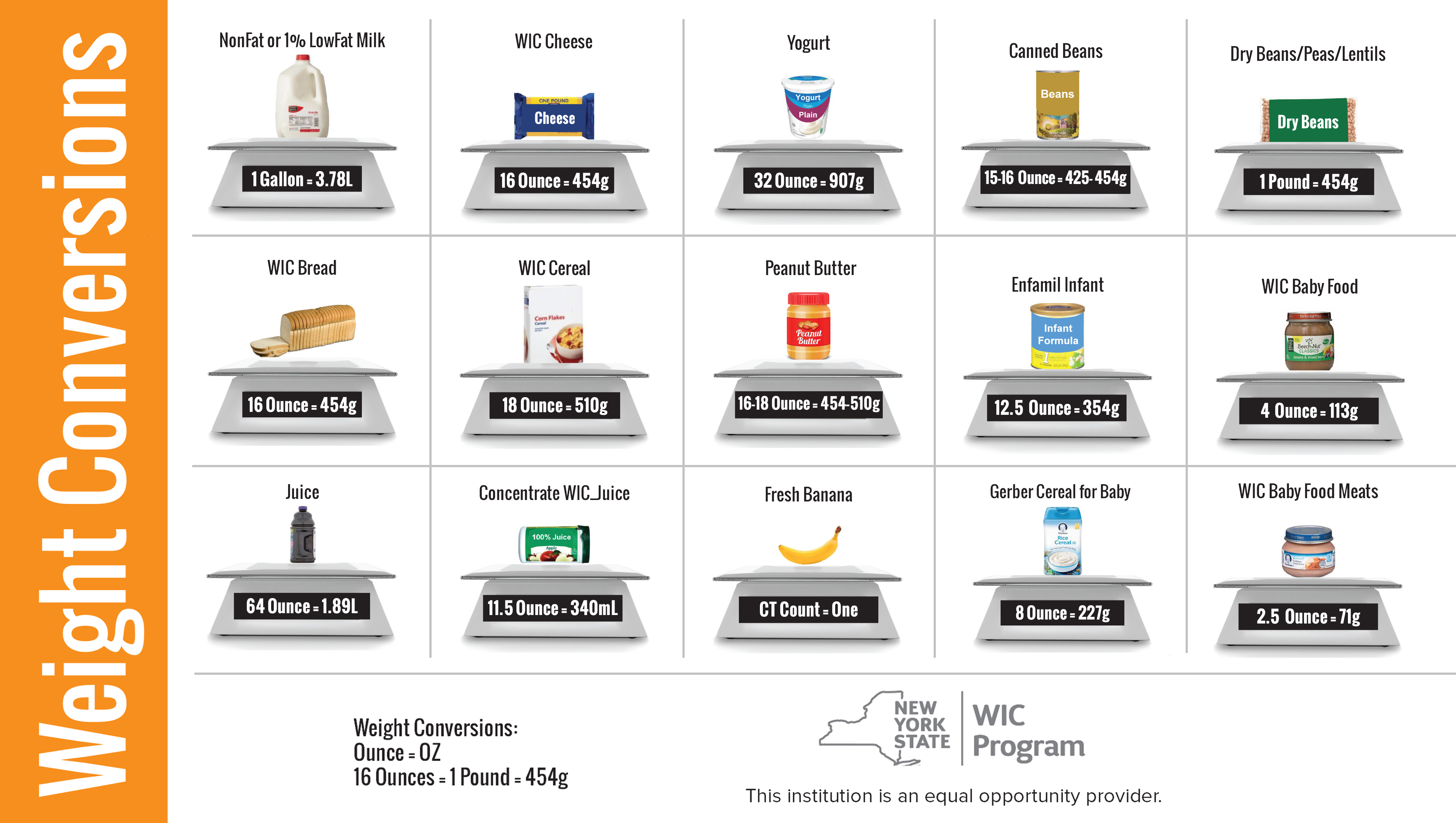 Check out this article on How Long You Can Freeze Everything to help you plan your trip!
If you see this sign in your grocery store or pharmacy entrance, they accept WIC!