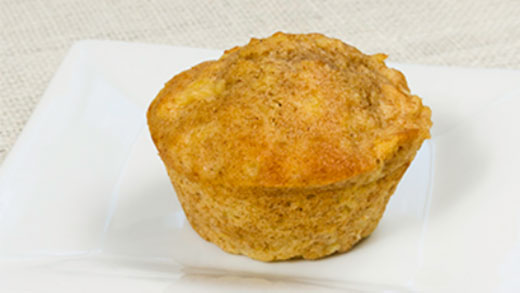 Nutrition Information per serving:
Calories: 170
Total Fat: 4.5g
Sodium: 150mg
Total Carbs: 29g
Dietary Fiber: 2g
Protein: 3g
Ingredients
1 can (20 ounces) crushed pineapple in 100% juice
1 cup whole wheat flour
¾ cup all-purpose white flour
1 teaspoon baking powder
½ teaspoon baking soda
¼ teaspoon salt
½ cup white sugar
3 tablespoons oil (canola or vegetable)
1 teaspoon vanilla
2 eggs
Instructions
1. Preheat oven to 350° F. Line a muffin tin with liners or spray with cooking spray.
2. Drain juice from the pineapple into a cup or bowl. Save the juice for step 4. Dab pineapple with a paper towel to dry.
3. Whisk whole wheat flour, all-purpose white flour, baking powder, baking soda, and salt together in a medium bowl.
4. Beat sugar, oil, vanilla, and 1/4 cup of the saved pineapple juice until combined. Beat in eggs. Stir in the crushed pineapple.
5. Pour the wet ingredients into the dry ingredients. Stir until just combined. Divide the batter into the muffin tins.
6. Bake until the snack cakes are golden, and a tester inserted into the center of a snack cake comes out clean, about 18–20 minutes.
7. Store leftovers in an airtight container in the refrigerator.
Source:
https://spendsmart.extension.iastate.edu/recipe/pineapple-snack-cakes/