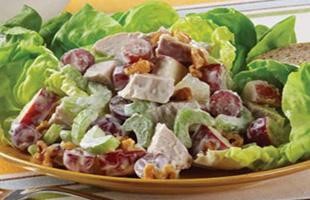 Nutrition Information per serving:
Calories: 356
Total Fat: 16 g
Saturated Fat: 2 g
Cholesterol: 78 mg
Sodium: 408 mg
Total Carbohydrate: 23 g
Dietary Fiber: 3 g
Total Sugars : 15 g
Added Sugars Included: 1 g
Protein: 31 g
Calcium: 109 mg
Iron: 2 g
Potassium: 537 mg
Ingredients
1/3 cup low-fat mayonnaise
1/3 cup nonfat or low-fat plain yogurt
2 teaspoons lemon juice
1/4 teaspoon salt
3 cups chopped cooked chicken breast
1 apple, diced
1 cup halved red or green grapes
1 cup sliced celery
1/2 cup chopped walnuts, divided (toasted if desired)
Instructions
Waldorf salad is a salad, is made with sour apples, celery root and chopped walnuts. A low-fat dressing is made out of fat-reduced mayonnaise, lemon juice, salt and cayenne pepper. There are different variations of this salad.
1. Whisk mayonnaise, yogurt, lemon juice and salt in a large bowl.
2. Add chicken, apple, grapes, celery and half of the walnuts. Stir to coat well.
3. Serve topped with the remaining walnuts. Garnish with parsley and walnuts.
Haehnchen Waldorf Salat
Waldorfsalat ist ein Salat aus säuerlichen Äpfeln und roher Knollensellerie, die mit gehackten Walnusskernen vermengt und mit einer leichten Mayonnaise angemacht wird. Er kann mit etwas Zitronensaft und/oder Cayennepfeffer abgeschmeckt werden. Es gibt verschiedene Arten von Waldorfsalat. Anbei ein Rezept mit Stangensellerie und Haehnchenbrustfilets.
Zutaten:
75 gr / 3 Essloeffel fettarme Mayonaise
75 gr / 3 Essloeffel Magermilchjoghurt oder fettarmen Joghurt
375 gr Haehnchenbrustfilets
1 Apfel (schaelen)
100 gr Trauben (rot/weiss), halbieren
100 gr Stangensellerie (in Stueckchen schneiden)
120 gr gehackte Walnuesse (bei Bedarf roesten)
2 Essloeffel Zitronensaft
¼ Teeloeffel Salz
Petersilie
Zubereitung:
Haehnchenbrueste pochieren: Dafuer Wasser leicht sprudelnd aufkochen, salzen und Pfefferkoerner hinzugeben. Hitze sofort reduzieren und Haehnchenbrueste ca. 10-15 Minuten gar ziehen lassen (Fluessigkeit darf nicht kochen). Herausnehmen und abkuehlen lassen. Da nach das Fleisch zerrupfen und in eine Schuessel geben.
In der Zwischenzeit Mayonaise, Joghurt, Zitronensaft und Salz miteinander verruehren; Stangensellerie und Apfel in ca. 5 mm große Würfel schneiden.
Haehnchen, Sellerie, Apfel, Trauben und Walnuesse unterruehren und abschmecken.
Garnierung: Walnuesse, Petersilie
Source:
https://whatscooking.fns.usda.gov/recipes/myplate-cnpp/chicken-waldorf-salad