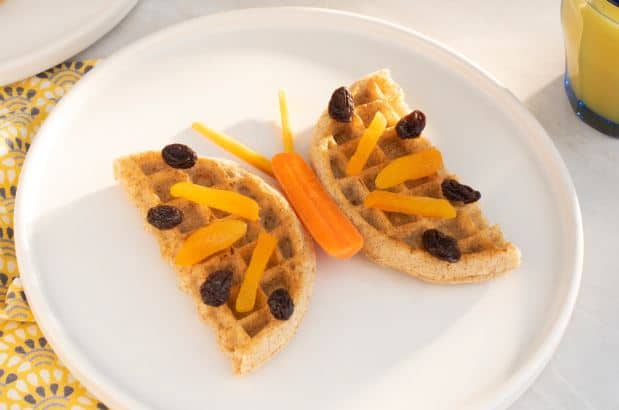 Serving Size:
1 Butterfly
Nutrition Information per serving:
Calories: 140
Total Fat: 7g
Saturated Fat: 1.5g
Trans Fat: .5g
Sodium: 250mg
Total Carbohydrate: 16g
Dietary Fiber: 2g
Sugars: 2g
Protein: 5g
Vitamin A: 25%
Calcium: 6%
Iron: 10%
Ingredients
2 frozen whole wheat waffles
1 baby carrot, halved lengthwise
1 tablespoon creamy peanut butter
Dried mango
Dried apricots, cut up
Raisins
Instructions
1. Place whole wheat waffles on baking sheet. Bake, uncovered, at 425° F for 5 minutes or until crisp and brown. Cut each waffle in half.
3. Place one carrot half in center of each of 2 serving plates. Arrange two waffle halves, with cut sides out, around carrot. Cut four long strips from dried mango to use for antennae. Place on plates at one end of each carrot piece. Use peanut butter to attach apricot pieces and raisins to decorate butterflies.
*Note: To easily pipe peanut butter onto dried fruit pieces, place it in a sandwich bag. Close the bag, pressing out excess air. Snip off one corner of the bag and press the peanut butter through the open corner onto the dried fruit.
Source:
https://www.kelloggs.com/en_US/recipes/waffle-butterflies-recipe.html