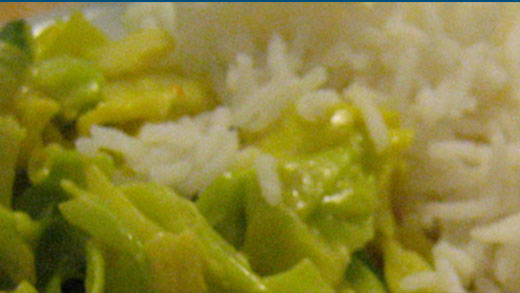 Nutrition Information per serving:
Calories: 350
Total Fat: 12g
Sodium: 350mg
Total Carbs: 52g
Dietary Fiber: 5g
Protein: 10g
Ingredients
2 tablespoons vegetable oil
3 beaten eggs
1 sliced onion
2 minced garlic cloves
1 shredded carrot
1/2 head Napa cabbage, shredded
4 cups cooked brown or white rice
1 tablespoon soy sauce
Instructions
1. In a large frying pan, heat 1 tablespoon oil over medium heat.
2. Pour eggs into pan and scramble for about 1 minute, or until eggs are cooked. Remove eggs from the pan and set aside.
3. Heat remaining 1 tablespoon oil in the same pan over medium heat.
4. Add onion, garlic, and carrot. Cook for 1 minutes, stirring often.
5. Add cabbage, rice, soy sauce, and cooked eggs to the pan. Cook for 2 minutes or until the rice is hot, stirring often. Enjoy!
6. Refrigerate leftovers.
Source:
http://jsyfruitveggies.org/napa-cabbage-fried-rice/