In the tri-county area of Herkimer, Madison, and Oneida Counties, Tri-County Community Action Program provides women and children with WIC services. Pregnant women, new mothers, and children under age five can use the program to learn more about health and obtain financial support for nutrient dense foods.

Our WIC program serves Rome, Utica, Oneida, Herkimer, and surrounding areas. If you're a resident of the state of New York and you meet NY WIC eligibility criteria, you can receive the support you and your child need for a healthy start. Give yourself the gift of health and apply for WIC services through the Tri-County Community Action Program. We look forward to helping you learn more about nutrition and accessing more whole foods.
Like and share us on Facebook @tricountywic for community events near you!
Farmers Market checks will be available again in June 2020.
Click here for more information!
Food Storage Guide!
Farmers Market Facts!
Breastfeeding
While breastfeeding may not seem the right choice for every parent, it is the best choice for every baby. ~Amy Spangler

Come join other moms who support breastfeeding. Have a light, no cost lunch. Get advice and enjoy great conversation with a great group of ladies. Baby weighing is available as well as professional lactation support if needed.Whether you are fully breastfeeding, supplementing, pumping, or now weaned, you're welcome and encouraged to attend! Dad's grandparents, other family members, friends and children are always welcome!
"Alone we can do so little; together we can do so much" ~ Helen Keller
Do you have a picky eater on your hands? Are you starting to feel helpless and frustrated? Don't worry you aren't the only one! Here are some quick tips to try to resolve some of your issues!
Tip #1: Stick to a Routine!
Try to give your little ones snacks and meals around the same time every day! Your children will get used to having food in front of them at a regular time, so they may be more accepting of foods with this tip!
Tip #2: Make it Fun!
Try to get your kids involved in the prepping or cooking process! They will be more willing to try something they can take pride in from making themselves! You can always make silly faces out of different foods to engage your child!
Tip #3: BE PATIENT!
I know it can be frustrating as a parent or caregiver repeatedly having children refuse different types of foods! This can raise your concern on their nutritional health. There is no need to worry because children typically go through phases where they only want to eat what they want. All you can do is to continue to offer the food to your child. Putting the food on their plate, but not forcing them to eat it, is a way to get your child acquired to the new food!
Tip #4: Be a Role Model!
Children are like sponges and absorb everything that is around them! So if you aren't eating vegetables, then your child isn't going to either! Most children want to be just like their mommy or daddy, if you lead by example, your child will happily do the same!
Tip #5: Don't Offer Dessert as a Reward!
Keeping dessert from your child because they didn't try or eat certain foods on their plates lead to them thinking that dessert is the best food out there! This will increase your child's desire for sugar and sweets. Always be positive and reassuring to your picky eater!
National Nutrition Month!
March is National Nutrition Month! So this month we are going to be talking all about nutrition!
MyPlate is the current nutrition guide published by the USDA. The plate contains all 5 food groups (fruits, vegetables, grains, protein and dairy). It is super important to eat the proper portion for each food group!
For fruits, you should be having 1/4 cup of fruit at every meal. Depending on the type of fruit, you are looking for a tennis ball or gold ball size serving. For vegetables, you should be having 1/2 cup of vegetables at every meal. Depending on the type of vegetable, you are looking for a baseball or computer mouse size serving. For grains, you should have 1/2 cup of whole grains at every meal. Depending on the type of grain, you are looking for a CD cover, baseball, bar of soap or a hockey puck size servings. For protein, you should be having 1/4 cup of protein at every meal. Depending on the type of protein, you are looking for a deck of cards or a ping pong ball size serving. For dairy, you should be having 1 cup at two meals every day. Depending on the type of dairy, you are looking for a baseball or large battery size serving.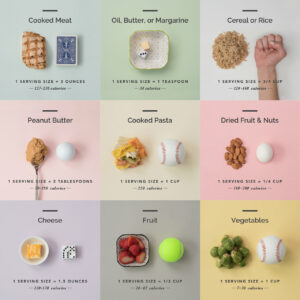 It is super important to get a balance of various nutrients from your meals throughout the day. With proper nutrition, you will be feeling your best as well as performing your best!
Office Locations