The New York Women, Infants, Children (WIC) program in Wayne County enables single mothers and fathers to fill their children's dietary needs. NY WIC has thousands of approved foods, including healthy choices such as fruits, vegetables, 100% juice, whole grain products, infant formula, milk, eggs, and more. WIC helps New York families succeed and gives them funds they need to eat foods necessary for health, strength, and happiness.
The SPCC of NY recognizes the importance of WIC in enabling parents to put the needs of children first, as well as improving their own health and nutrition. With benefits such as nutrition assessment, education, support from other parents, breastfeeding counseling, and monthly checks to purchase nutritious foods, Wayne County WIC can make a major difference for eligible families. Parents with children up to age 5 can apply for state WIC benefits today.
SPCC WIC continues to provide services through this trying time.
We will continue to provide ALL Services over the phone until further notice.
Our procedures have been put in place to help protect our families, our staff and our community during this COVID-19 outbreak.
*Prior to your appointment, please update your phone number with us if it has recently changed!
HELPFUL COVID-19 TIPS
Regular hand washing can help prevent the spread of germs and is one of the best ways to avoid catching or transmitting COVID-19. You and your child should wash your hands for 20 seconds—the length of time it takes to sing the ABC song—after coming in from playing outside, before preparing meals and after going to the bathroom.
Lavarse las manos con regularidad es una de las mejores maneras de evitar contagiarse o propagar el COVID-19. Enséñales a tus hijos a lavárselas durante por lo menos 20 segundos, lo que toma cantar la canción del alfabeto.
We are in this together! Help your neighbors on WIC by leaving items with a WIC-approved label on the shelves. These are for WIC participants who must follow set guidelines for the foods (including brands and sizes) that they can purchase with their WIC benefits. If we leave WIC-approved items on the shelves, we can ensure that WIC participants do not go home empty handed. #WICStrong #InThisTogether
Ahora es común ver estantes vacíos en el mercado. Si no participas en WIC —y no reúnes los requisitos para los beneficios de WIC— por favor, piensa dos veces antes de comprar alimentos con una etiqueta de aprobación de WIC al lado del precio. Estos alimentos son para los participantes en WIC, quienes deben seguir ciertas normas sobre qué alimentos comprar (además de marcas y tamaños) con sus beneficios de WIC. Por favor, ten en cuenta las necesidades de tu vecino. #WICStrong #JuntosEnEstas

We must all play our part to avoid stockpiling key products – like infant formula – to ensure that all shoppers can purchase the products they need.  WIC participants are our neighbors, our friends, and our community. #YouGotThis
Forgotten your PIN?  Call 1-844-540-3013
Breastfeeding and COVID-19 Guidance
Guidance

SPCC WIC Peer Counselor Program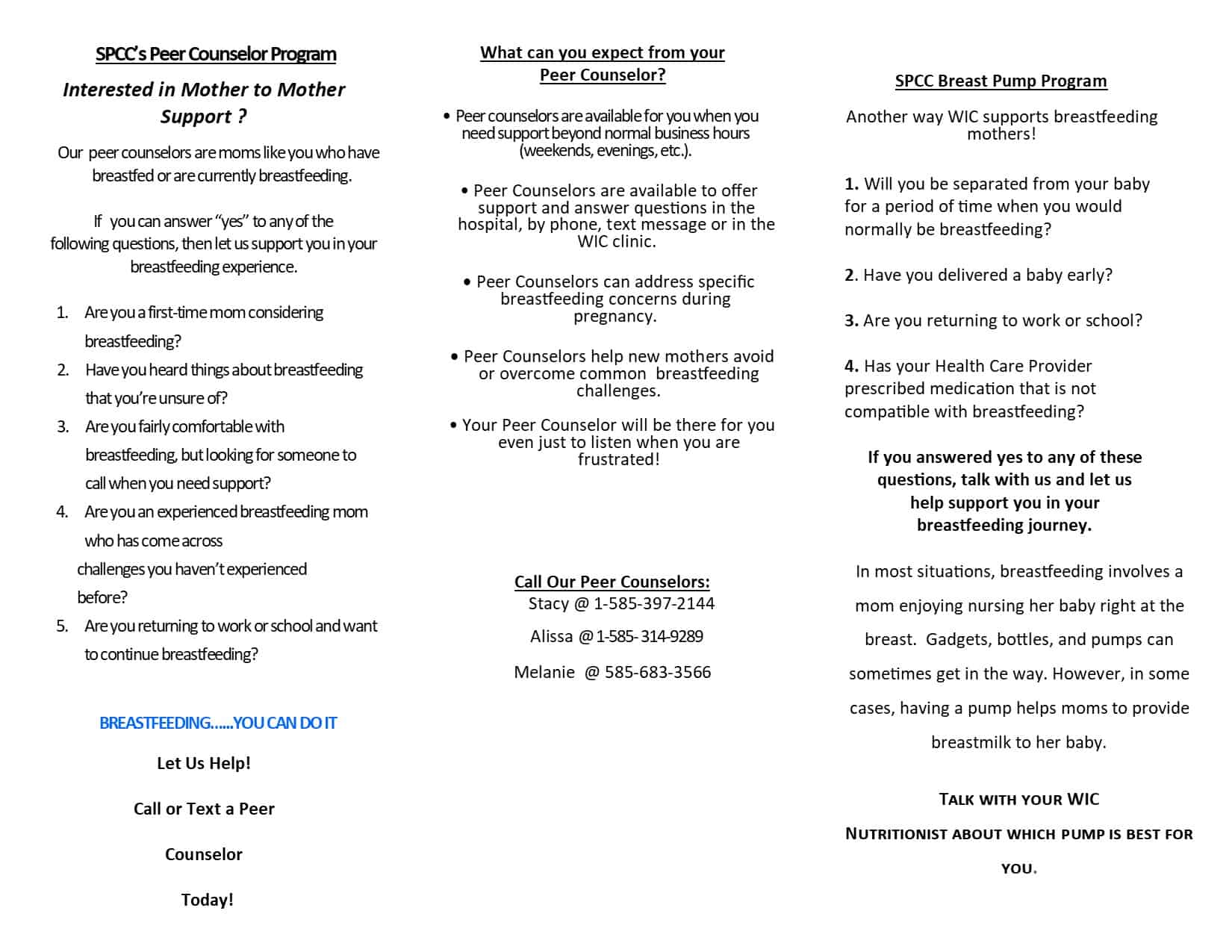 Sign up for a peer counselor at your next WIC appointment!

SPCC WIC Peer Counselor Private Facebook group- WIC Moms Talk Breastfeeding.
To join our private group; Log into your personal Facebook account, in search bar, search WIC Moms Talk Breastfeeding and request to join!  Our team will accept your request, it's that simple!

Breastfeeding Videos (Breastfeeding Partners)
Phone - Text - Fax Numbers
(585) 394-9240 – Phone
(585) 481-8488 – Text Line
(585) 394-9285 – Fax Number
Secure email Address
Send Us Your Appointment Documents @
www.spccwic@spcc-roch.org
*Completing Your Certification/Re-Certification By Phone*
Read Rights and Responsibilities (choose language below)

Have the following documents ready before your phone call appointment:

If you have Medicaid, you will need to provide active Medicaid numbers for you and/or your child/children.

If you don't have Medicaid, you will need to provide proof of income or a Self-Declaration form (available printable PDF below).

ID Card

Proof of Address

Medical Referral Form (if required)
Legal Assistance of Western New York, Inc (SNAP)
1-866-781-1023
Seneca County   (ext. 1008)
Wayne County  (ext. 1018)
Ontario County  (ext. 1023)
Livingston County
1-585-572-1714 /toll free  1-844-232-5562
Monroe County
1-585-295-5624 /toll free  1-866-277-9411
Public Health
(315) 946-5749
Social Security Admin.
(800) 772-1213
Child Support Services
(888) 208-4485
Call Department of Social Services in your County OR Legal Assistance of Western New York at (315) 781-1465
Child Health Plus
(800) 698-4543
Growing Up Healthy Hotline
(800) 522-5006
New York State Smokers Quit Line
(866) 697-8487
website
Child Protective Services
(800) 342-3720
Public Transportation- RTS
Wayne Co. (315) 946-5617
Community Action Programs (CAP)
(315) 665-0131
Early Intervention
(315) 946-5749
Head Start
Wayne County
Clyde: (315) 923-4782
Huron: (315) 594- 6122
Lake Ontario ABCD: (315) 589-7421
Lyons: (315) 946-5388
Newark: (315) 331-8172
Palmyra: (315) 597-0279
Red Creek ABCD: (315) 754-8759
Sodus: (315) 483-6789
Sodus UPK: (315) 483-5282
Housing & Urban Development (HUD)
(315) 477-0616
Cornell Cooperative Extension
(315) 331-8415
Child Care Council
(315) 331-5443
Substance Abuse Services
NY State HOPEline (provides help 24/7): (877) 846-7369
Finger Lakes Addictions & Counseling (FLACRA): (315) 331-3862
Prevention Education: (315) 789-0310
(585) 394-9240 – Phone
(585) 481-8488 – Text Line
(585) 394-9285 – Fax Number
Office Locations