Welcome to the Morrisania WIC Program!

Income Eligibility Guidelines
Check the chart below and see how your family can qualify/continue to receive WIC benefits with the New Income Limits. A family of four can earn up to $47,638 and still qualify for WIC!
To qualify for WIC, individuals must meet categorical, residential, and financial requirements.
1. Categorical
Applicants for the NYS WIC Program must be:
A pregnant woman;
An infant or child up to 5 years old;
A mother of an infant up to 6 months old; or
A breastfeeding mother with an infant up to 12 months old.
A father or caretaker applying for their children.
2. Residential
Applicants must be a resident of New York State.

We will not ask about visa status or citizenship. Your information is kept confidential.
3. Financial
Applicants must meet income eligibility guidelines (see table below) or receive Medicaid, SNAP (Food Stamps), or TANF (Temporary Assistance for Needy Families).
Effective through June 30, 2021.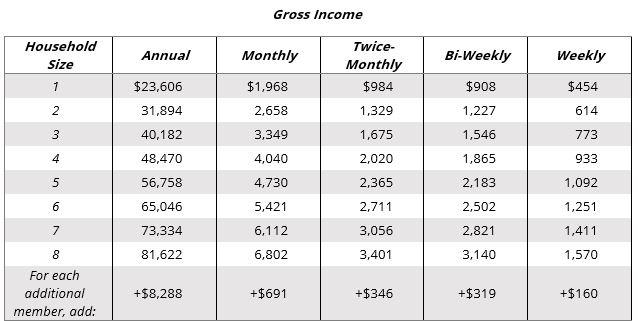 Use the calculator below to check if you may be eligible:

Select the number of people in your household.

Gross household income.



Great News!
You may be eligible for WIC!
How to apply

Sorry...you may not be eligible for WIC. Please contact your local WIC agency to confirm your eligibility.
Try Again
Theresa Landau, MS, RDN, CDN, CLC – WIC Director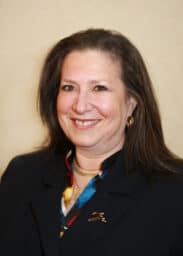 As the Director of the Morrisania WIC Program, it is Theresa's responsibility to provide quality WIC services to our community.  She feels truly blessed to have worked at Morrisania WIC for over four decades.  It has been her passion and her life.  Theresa is incredibly proud of Morrisania WIC's knowledgeable and compassionate staff and our successes through the years.
Clearly WIC is a very important part of Theresa's life.  As a past Chairperson of the NYC WIC Association, WIC Association of NYS, Inc. and the National WIC Association, as well as the leading local, state and national breastfeeding organizations, including her role as Chairperson of Baby Friendly USA, Inc., Theresa has had the privilege to impact WIC and breastfeeding on the national, state, city and local levels.  That means that YOU also have impact.  She loves to meet participants and their families to learn how we can best improve the program.  Theresa is always willing to listen and share your wisdom.
Our WIC families are the shining stars of the Morrisania WIC Program! Thank you!
Diane Merle, MS, RDN, IBCLC – WIC Nutrition Coordinator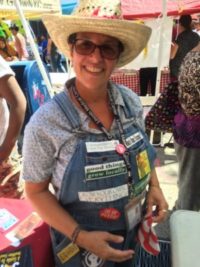 Diane is a professional chef turned Registered Dietitian. As the Nutrition Coordinator at the Morrisania WIC Program, Diane works with families and young children towards the goal of preventing nutrition-related diseases and helping others achieve their dreams of health and wellness.
Prior to becoming a dietitian and lactation consultant, Diane spent over 30 years as a professional chef in the U.S., U.K. and Mexico and a National Institute of Health (NIH) biomedical research fellow in the Dominican Republic. She is fluent in English and Spanish and speaks a little French and Italian.
A suburban farmer, Diane is focused on increasing opportunities for growing food in small spaces, expanding growing seasons, seed-saving/sharing and is passionate about protecting water, composting and reducing waste.
Albania Martinez, WIC Community Associate (lovingly known as Alby)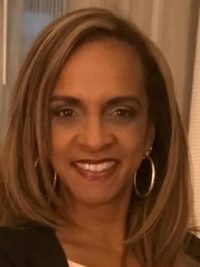 Hi, my name is Albania Martinez. I am a Morrisania WIC Program Community Associate. I have been a part of the Morrisania WIC Program for the past 27 years and out of those years I have had the pleasure of making a difference in the lives of many families. I'm excited to welcome you to our WIC community. I am grateful for the opportunity to show you how much the Morrisania WIC team cares about our families. We are in a partnership with you through your journey of raising a healthy family. WELCOME TO OUR HOME!
Judy Fram, IBCLC – Breastfeeding Peer Counselor Coordinator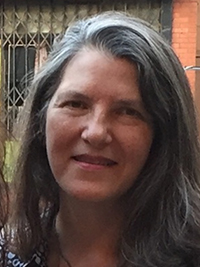 Judy is the Peer Counselor Coordinator for the Morrisania WIC Program. She moved to NYC to attend SUNY Downstate Medical Center in Brooklyn. After 38 years, she is still living happily in Brooklyn where she raised her two children. She holds degrees in Physical Therapy and Motor Learning. Judy was a peer support person with La Leche League International for 25 years, and has been a Board-Certified Lactation Consultant for 22 years. Judy loves being part of the Morrisania WIC Team serving the community for the past 4 years. Reading, swimming, singing, listening to and making music, and watching movies are her favorite past times. Judy speaks English, and un poco de Español.
Karla Lewis, IBCLC, RLC - Breastfeeding Coordinator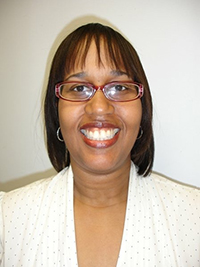 My name is Karla Lewis. I am the Breastfeeding Coordinator and one of the Board Certified Lactation Consultants at Morrisania WIC. My three children (now 23, 21 and 15 years old) were breastfed, each well past 1 year old. They are now all weaned and sleeping through the night 
WIC provided me with helpful information and amazing support as a WIC participant with my 3 children. This encouraged me to join the WIC Program as a Breastfeeding Peer Counselor. Now as the Breastfeeding Coordinator, it is my pleasure to help you meet your breastfeeding goals and provide you with excellent support. WIC was helpful for me. I want you to experience all of the wonderful breastfeeding care that we have to offer. If you ever have any questions or concerns about any of our breastfeeding support, please call me 718-960-2792.
Regine Juhasz - Outreach Coordinator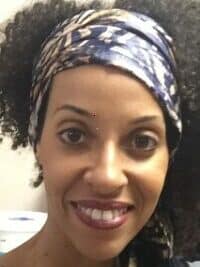 Regine is the Outreach Coordinator for the Morrisania WIC Program. She is the proud mother of a boy and twin girls. Born and raised in Haiti, Regine migrated to the USA at 18 years old. She later graduated from SUNY College at Old Westbury earning a Bachelor's Degree in Business Marketing. Regine was a WIC participant before she started working with WIC families in 2013 as a Breastfeeding Peer Counselor.
She is a Certified Lactation Counselor. Doing Outreach for WIC is exciting and very rewarding for Regine.
Regine enjoys reading, exercising, cooking, and camping. Regine speaks English, French, Haitian Creole, and Spanish.
Marisilvia Gamarra – WIC Dietitian/Nutritionist
Marisilvia Gamarra has been a Dietitian with Morrisania WIC for the past 7 years. She is glad to have the opportunity to serve her community. Marisilvia graduated from Lehman College with a Bachelor Degree in Science: Nutrition, Diet and Food Services and a degree in Science from the Private University Antenor Orrego, Toujillo-Peru as a Midwife. At Morrisania WIC, she helps pregnant women meet their nutrition goals for a healthy pregnancy and initiation and support of breastfeeding. Serving the Morrisania community is very gratifying.
Martha Perez - Supervising Clerical Associate
Martha has been working for the Morrisania WIC Program for 22 years as a Clerical Associate. Greeting our participants and ensuring all documents necessary are in place are part of the amazing services Martha provides – and always with a smile. She is the proud mother of a daughter who started college in August of 2018. Her favorite quote is "Helping one person might not change the whole world, but it could change the world for one person."
Verenice Perdomo - Breastfeeding Peer Counselor
Verenice is a mother of two Children ages 15 and 7 years old.
She was a WIC participant at Morrisania WIC before starting 6 years ago as a Breastfeeding Peer Counselor. The kindness, compassion and professionalism of the staff at Morrisania WIC is really what compelled her to join the team. The breastfeeding team helped her and supported her throughout the 3.5 years that she breastfed my son. It is a pleasure for Verenice to return the favor.
Josefina, a breastfeeding counselor English
Josefina, la consejera de lactancia Español
Jesenia, a breastfeeding counselor English
Jesenia, la consejera de lactancia Español
Judy, a Lactation Consultant (IBCLC) and the Peer Counselor Coordinator English
Karla, a Lactation Consultant (IBCLC) and the Breastfeeding Coordinator English
Afsa, a breastfeeding counselor, English
Afsa, une conseillère en allaitement français
Free Diaper Program for Bronx Residents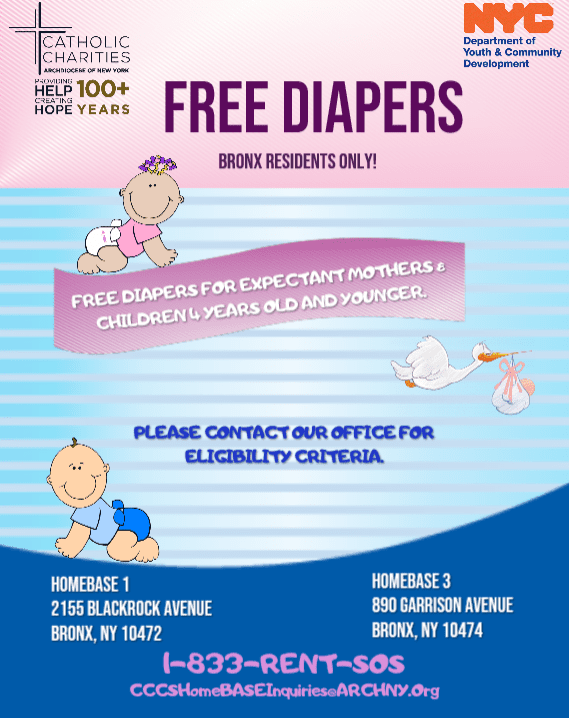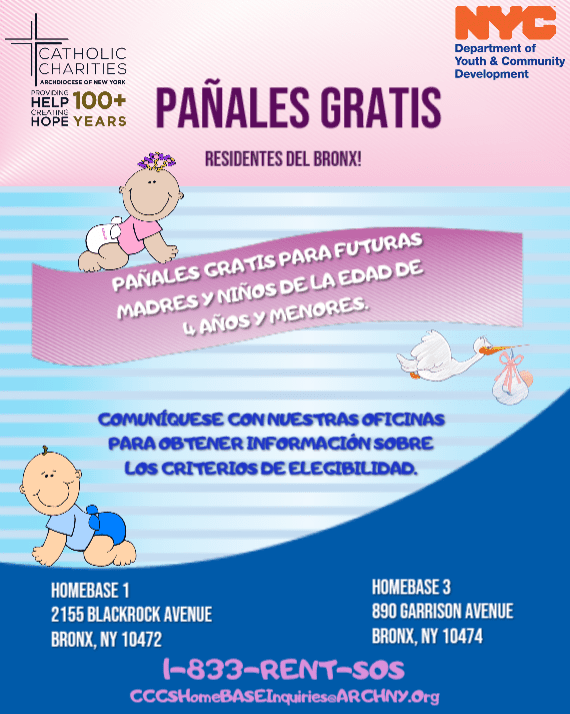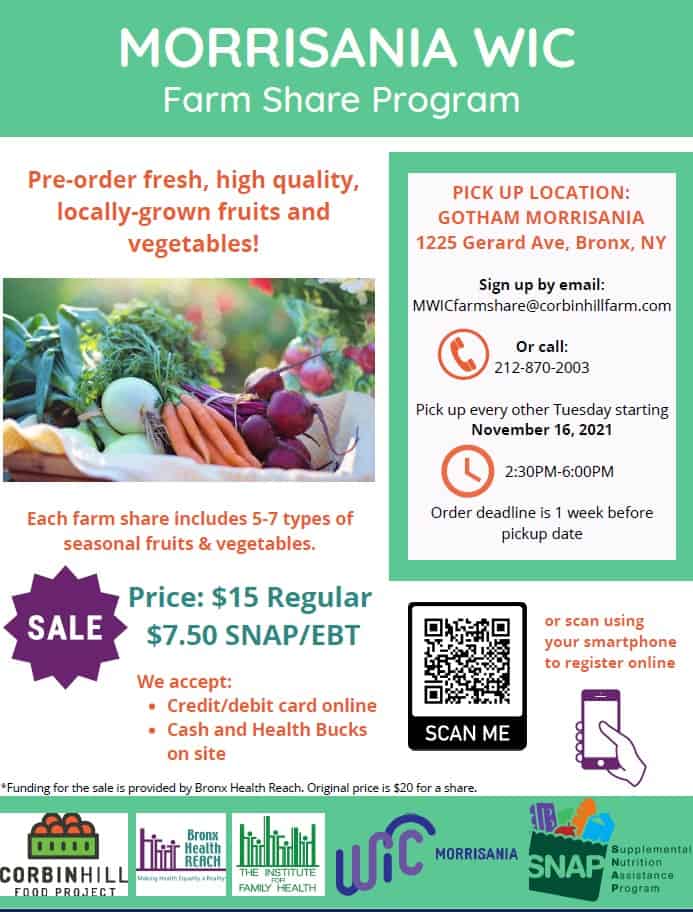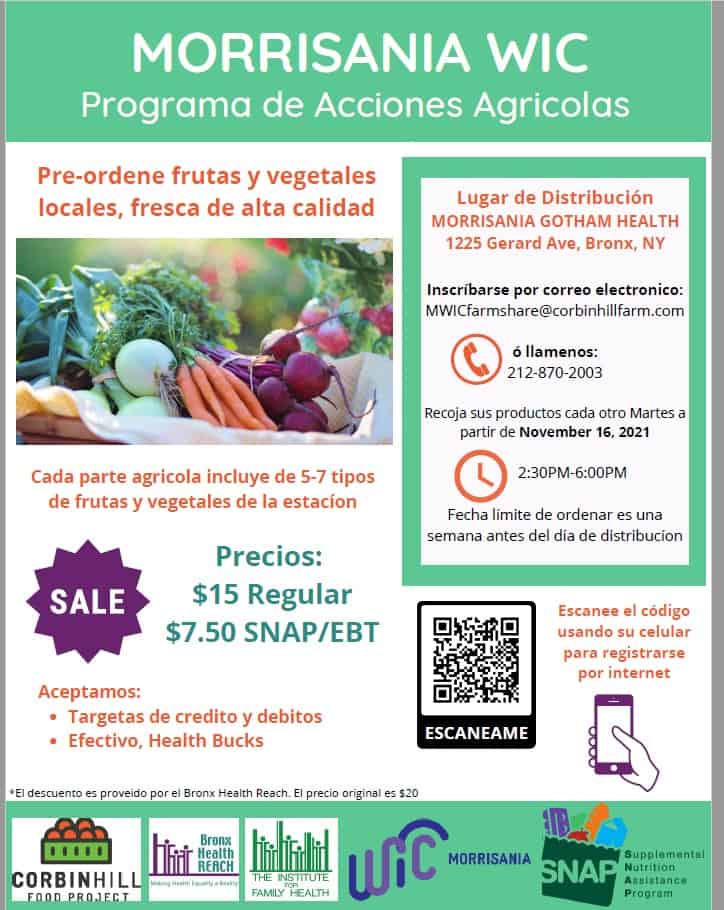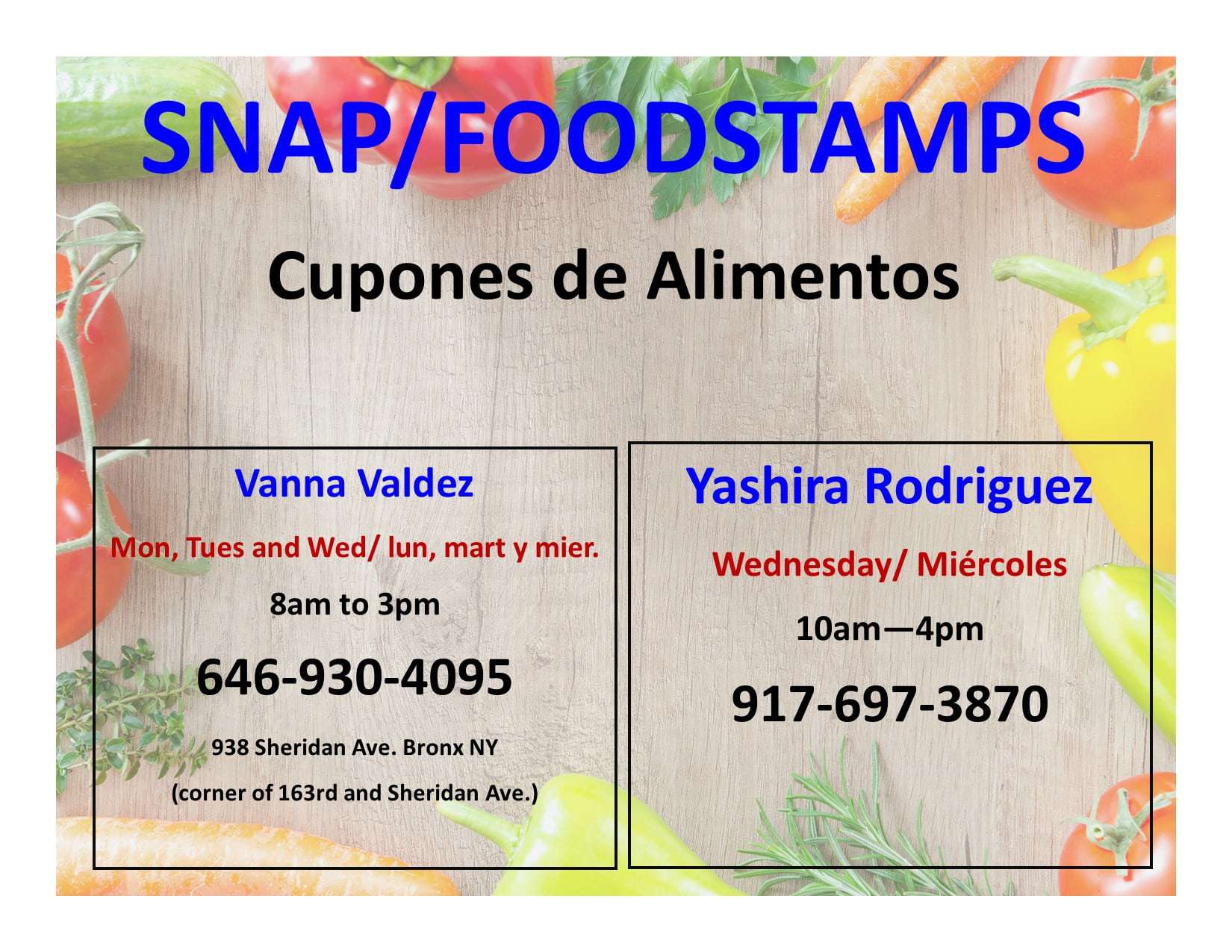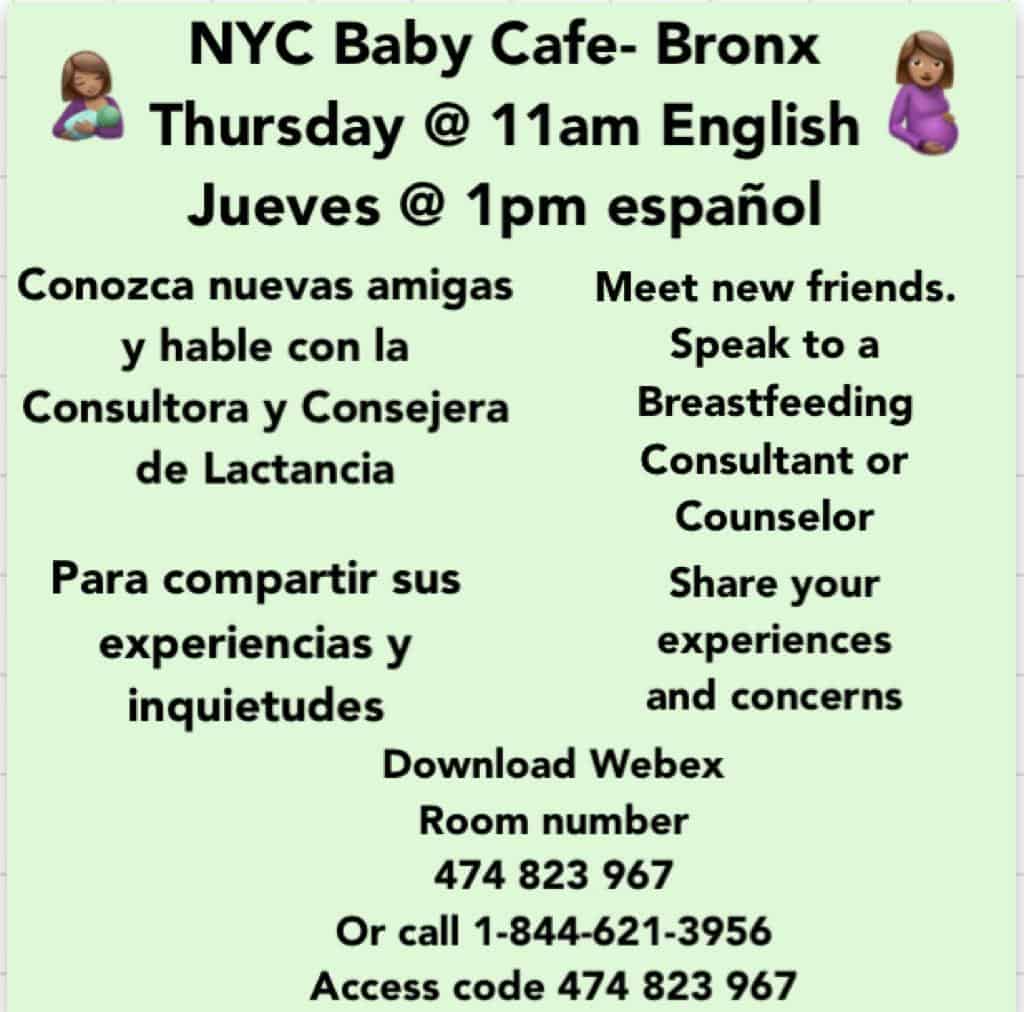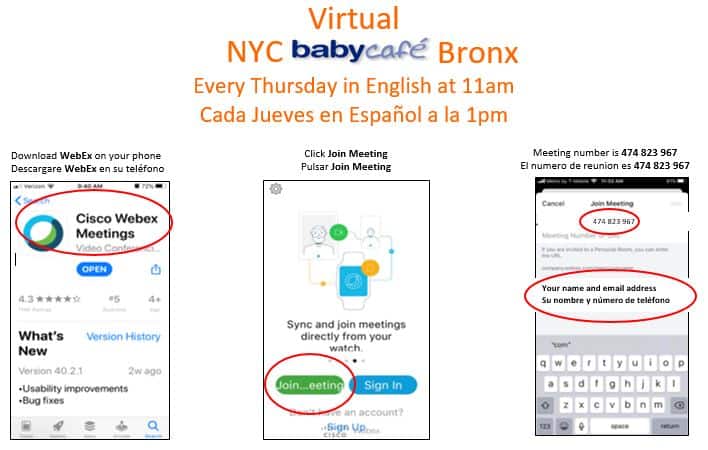 Get Out of Town Ideas from our friends at Greenmarket/Grow NYC
From September 8 to October 28, EscapeMaker offers tours that include transportation by bus or train to some of the most beautiful farms, orchards, and wineries in the Hudson Valley.
Pick apples and pumpkins, sip cider, feed farm animals, and explore the quaint towns of the Hudson Valley.
Here's everything you need to know.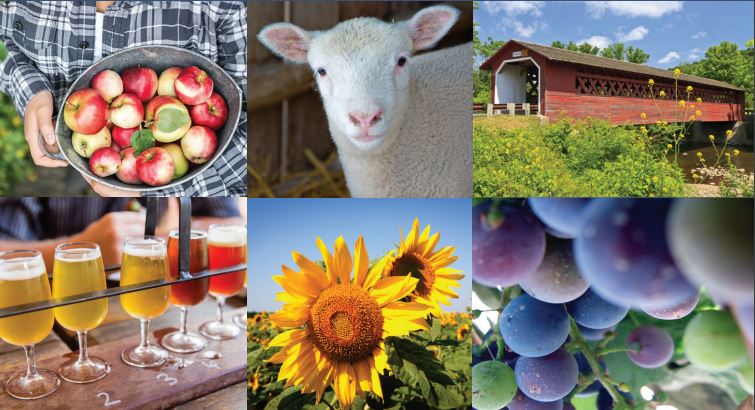 Community Gardens
There are 2 community gardens in Morrisania near the Morrisania WIC Program:
Jacqueline Denise Davis (JDD) Garden at 1024 Boston Road is bordered by a wide variety of trees, shrubs, bushes, and beautiful flowers. Half of the garden is used by the neighborhood; step through the trellis and you see 25 colorfully decorated flower beds. In the midst of them is a wishing well that contains a mini herb garden. There's also an open deck and a stage/gazebo. The other half of the garden is used by GrowNYC's Learn It, Grow It, Eat It program, which teaches Bronx high school students about growing food and empowers them to conduct nutrition education outreach in their neighborhood  Students also sell the food that they grow at the Learn It, Grow It, Eat It Youthmarket. The 13,000 square foot garden hosts parties, workshops, and celebrations of all kinds. The garden opened in 1999 with support from the GrowNYC's Plant-A-Lot project and the Trust for Public Land.
Wishing Well Community Garden at 864 Reverend James A. Polite Avenue is a 15,000 square foot Bronx community garden inspired the next generation of local young people and invigorated garden membership. The once neglected space was reborn as large scale vegetable garden and thriving outdoor classroom for P.S. 60/333. The garden had over 300 feet of fencing installed, in addition to new soil and vegetable gardens beds made from recycled plastic lumber, which occupy 2/3 of the site and provide food for over 40 families. A shed, outdoor furniture including all-ability picnic tables, a notice board, composting area, gazebo and pathways complete this site. In honor of its name and as a nod to a community desire fulfilled, a wishing well is being constructed using stones excavated during the construction phase. A portion of the garden is used by GrowNYC's Learn it Grow It Eat It program. LGE students helped construct the rainwater harvesting system in the garden, which collects rainwater from the garden shed and stores it in a 500-gallon tank.
New Yorkers can find out more information about the GrowNYC community gardens and GrowNYC Community events at https://www.grownyc.org/gardens/bronx
Bronx Green-Up has helped Bronx residents transform vacant, abandoned lots into vibrant green spaces https://www.nybg.org/gardens/bronx-green-up/urban-farming-community-gardening/
Anyone can join a garden. Find a garden near you http://www.greenthumbnyc.org/gardensearch.html
Bring clean, reusable, portable items such as clothing, housewares, games, books, and toys that you no longer need, and take home something new-to-you, free! You don't have to bring something to take something.
Community Gardens
English for Speakers of Other Languages
Highbridge Community Life Center
Highbridge Community Life Center offers free English as a Second Language (ESL) and civics classes.
979 Ogden Ave
Bronx, NY 10452
646.393.9533
ASPIRA of New York, Inc.
Offers free English as a Second Language (ESL) and general English classes for people age 21 and over.
Middle School 343
345 Brook Ave
Bronx, NY 10454
718.585.3353
New York Public Library – English language classes at various New York Public Library Locations. For the most current information available regarding these classes, please email [email protected].
174 East 110th Street (between Lexington & Third Avenue)
New York, NY 10029
212.534.2930
Stay in Shape
By Valerie Corvino, Wellness Workday Dietetic Intern Class of 2019
Shape Up NYC offers FREE fitness classes that are open to public in the Bronx. Families are welcome including kids of all ages. Some examples of classes are listed below with links to sign up. Please bring locks to each site to secure personal belonging.
Baby and Me Aerobics
Parents and caregivers can join in for a morning of fun and fitness with their children.
St. James Recreation Center
Zumba
Latin inspired dance moves to a fusion of Latin American and pop music, that will be fun and aerobically challenging.
St. James Recreation Center
Jacobi Medical Center
St. Jerome H.A.N.D.S. Community Center
Lincoln Hospital: Zumba
Cardio Dance/Aerobics
Easy to follow dance steps to upbeat, fun, and energetic music that will increase your heartbeat and improve cardiovascular ability. 
West Bronx Recreation Center
Bronxworks: Betances Community Center
BronxWorks: Melrose Classic Community Center
New Settlement Community Center
Toddler and Young Children
Can't eat large amount of food at one time (small tummies!)
Need snacks to meet nutritional needs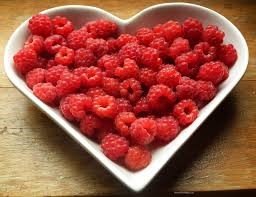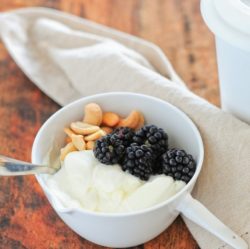 Adolescents/Adults:
Higher snacking frequency associated with higher risks of overweight
Choose snacks wisely!
Snacking Tips
Hunger cues: Does "I'm hungry" mean "I'm bored/tired?"
Create a snack schedule – don't snack close to mealtime
Don't graze (snack) constantly throughout the day
Control the snack environment (stress-free, no TV!)
Serve small portion sizes, allow child to ask for more
Reward with LOVE (not food!)
Make healthy options accessible (easy to choose)
Limit sugary & salty options (especially sweetened drinks)
Make fruits and veggies fun!
Helps kids get missing nutrients, such as key vitamins for healthy growth!
Celery sticks filled with nut butter and sprinkled with dried cranberries
Veggie sticks with low-fat ranch dip or hummus
Pear slices with low-fat cheese
Low-fat yogurt, fruit and nuts
Choose whole grain options!
Added fiber helps kids stay full for longer, and keeps their guts healthy!
Air-popped popcorn
Baked whole wheat tortilla chips dipped in salsa
Whole wheat crackers with low-fat cheese or nut butter
Add in protein and healthy fats!
Important for growth of muscles, heart and brain!
Reduced-sodium sliced turkey breast wrapped around apple slices
Hard-boiled eggs
Trail mix – make your own! Nuts, dried fruit without added sugars, whole-grain pretzels and low-sugar dry cereal
Planning a Healthy Family
Would you like to become pregnant in the next year?
YES – I Desire Pregnancy
Mom and dad's health before you become pregnant is critical for a healthy pregnancy and baby.
It's best for your body and the health of your new baby to wait about 18 months after giving birth to become pregnant again. Talk to your partner about your goals for pregnancy and what steps you can take to be as healthy as possible.
NO – I Do Not Desire Pregnancy
If you want to prevent pregnancy there are many safe and effective birth control options
UNSURE
Whether or not you want to become pregnant talk to your health care provider today.
Here are some commonly asked questions to help you learn how to prepare for a healthy pregnancy and when to prevent pregnancy until you are ready.
Should I take a Vitamin Supplement?
Although most of your nutrients should come from the foods you eat, it is a good idea to take a prenatal vitamin before pregnancy. It is recommended that all women consume 400 micrograms of folic acid a day.
Can Being Overweight or Underweight Affect My Pregnancy?
Can The Medical Conditions I Have Affect My Pregnancy?
Can My Lifestyle and Behaviors Affect My Pregnancy?
Can the Medications I Take Affect My Pregnancy?
Taking certain medicines during pregnancy(https://www.cdc.gov/pregnancy/meds) can cause serious birth defects. These include some prescription and over-the-counter medications and dietary or herbal supplements. If you are planning a pregnancy, you should discuss the need for any medication with your doctor before becoming pregnant and make sure you are taking only those medications that are necessary
https://www.acog.org/-/media/For-Patients/faq056.pdf?dmc=1&ts=20180419T1422436553
The History of Infant Formula
Shannon Herbert, James J. Peter VA Dietetic Intern Class of 2019
Before 1980, infant formula was not regulated. In 1979, two infant formulas were found to be deficient in chloride, a nutrient critical to infant development. Over 130 infants who consumed the formula suffered injury from the missing nutrient. In 1980, Congress signed the Infant Formula Act of 1980. The act set minimum and maximums of the amount of protein, fat, vitamins, and minerals for formula – setting standards for the industry.
Today, infant formula is regulated by the FDA (Food and Drug Administration). The FDA makes sure that formulas are made safely and that they follow nutrition requirements. Infant formulas must be tested for harmful bacteria, Salmonella and Cronobacter. Formulas are tested to make sure they contain the right nutrients before being sold. The FDA conducts yearly inspections of all infant formula facilities. If an infant formula is thought to be dangerous, the maker of the formula must recall the product. Since formulas need to have a certain amount of nutrients, different brands of formulas are very similar. The nutrition labels may even look the same! But it is important to look at possible differences in where the protein is coming from, the fillers that are in the formula, and the presence of non-required added nutrients.
Surprisingly, the required nutrients that were set in 1980 have not changed much! But, now formula manufacturers add a lot of additional ingredients to try to make formula as close to breast milk as possible.
Some things you may see added to formula include:
Probiotics

to reduce the bad bacteria in the intestines of formula fed infants

DHA/ARA DHA is Docosahexaenoic acid and ARA is Arachidonic acid

DHA and ARA are fatty acids are natural in breast milk, but are made from algae and fungus for use in formula. They are believed to help with brain development.

Lutein

An antioxidant naturally occurring in breastmilk and derived from the stems and leaves of plants for formula. Lutein is believed to play a role in eye health.

Human milk oligosaccharides (HMOs)

HMOs are immune system boosting nutrients found in human milk. HMOs in formula are made from cow's milk which may be chemically or enzymatically synthesized. Some processes use fermentation or bacteria to produce them from cow's milk.

MFGM is Milk Fat Globule Membrane

MFGM in human milk is believed to support a child's cognitive development, playing an important role in brain structure and function. MFGM in formula does not come from humans, but comes from cows.
The amount of nutrients in breast milk compared to formula are different. The levels of many nutrients are much higher in formula because it is harder for your baby to absorb all the nutrients in formula. The nutrients in breast milk may be in lower levels, but it is easy for your baby to absorb all of them! Even though formula makers are adding more ingredients to try to make it closer and closer to breast milk, breast milk offers so many more benefits for you and your baby. Research shows that breast milk contains the perfect nutrition for your baby!
Formula feeding increases your baby's risk of:
Ear Infections
Respiratory Infections (such as pneumonia and asthma)
Type 1 and Type 2 Diabetes
Cardiovascular Disease
Becoming overweight or obese
Leukemia
Diarrhea
Sudden Infant Death Syndrome (SIDS)
Formula feeding your baby increases YOUR risk of:
Premenopausal breast cancer
Ovarian cancer
Retained pregnancy weight
Type 2 Diabetes
Metabolic Syndrome
References:
Cronobacter Infection. (2019). Retrieved from https://www.cdc.gov/features/cronobacter/index.html
Food and Agriculture Organization of the United Nations/World Health Organization. (2007). Codex Alimentarius: Standard for Infant Formula and Formulas for Special Medical Purposes Intended for Infants.
Food and Drug Administration. (2016). Labeling of Infant Formula: Guidance for Industry. U.S. Department of Health and Human Services.
Guidance for Industry: Frequently Asked Questions about FDA's Regulation of Infant Formula. (2018). Retrieved from https://www.fda.gov/food/guidanceregulation/guidancedocumentsregulatoryinformation/infantformula/ucm056524.htm#q2
Infant Formula, 21 C.F.R § 107.100 (2018)
Jasani B, Simmer K, Patole SK, Rao SC. Long chain polyunsaturated fatty acid supplementation in infants born at term. Cochrane Database of Systematic Reviews 2017, Issue 3. Art. No.: CD000376. DOI: 10.1002/14651858.CD000376.pub4
Lönnerdal, B. (2014). Infant formula and infant nutrition: bioactive proteins of human milk and implications for composition of infant formulas. The American Journal Of Clinical Nutrition, 99(3), 712S-717S. doi: 10.3945/ajcn.113.071993
Molska, A., Gutowska, I., Baranowska-Bosiacka, I., Noceń, I., & Chlubek, D. (2014). The Content of Elements in Infant Formulas and Drinks Against Mineral Requirements of Children. Biological Trace Element Research, 158(3), 422-427. doi: 10.1007/s12011-014-9947-1
O'Connor, N. (2009). Infant Formula. American Family Physician, 79(7), 565-570.
Puccio, G., Alliet, P., Cajozzo, C., Janssens, E., Corsello, G., & Sprenger, N. et al. (2017). Effects of Infant Formula With Human Milk Oligosaccharides on Growth and Morbidity. Journal Of Pediatric Gastroenterology And Nutrition, 64(4), 624-631. doi: 10.1097/mpg.0000000000001520
"S. 2490 — 96th Congress: Infant Formula Act of 1980." www.GovTrack.us. 1980. March 26, 2019 https://www.govtrack.us/congress/bills/96/s2490
Shang-Yu Lin, "Infant Formula: A Comparison of Legislation in the United States and Taiwan" (March 18, 2012)
Stuebe A. (2009). The risks of not breastfeeding for mothers and infants. Reviews in obstetrics & gynecology, 2(4), 222-31.
Get the Good Stuff Program
New Yorkers who participate in the Supplemental Nutrition Assistance Program (SNAP/EBT) can get free fruits, vegetables and beans at certain NYC supermarkets through the Get the Good Stuff Program. For every dollar spent using SNAP/EBT on eligible fruits, vegetables and beans, shoppers get a matching dollar in reward points (up to $50 per day) that can be used for the next purchase of eligible produce.
Eligible foods include:
Fresh fruits, vegetables, and herbs
Frozen fruits and vegetables without added sugar, salt or fat
Canned and jarred fruits, vegetables, beans and lentils without added sugar, salt or fat
Dried beans, lentils and fruit without added sugar, salt or fat
For more information, email [email protected] , and store locations can be found here: https://www1.nyc.gov/site/doh/health/health-topics/free-produce-snap.page
eWIC Guide:
English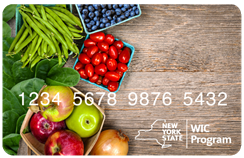 For more information about New York State eWIC, click the button below:
More Information
Read-a-Loud at Morrisania WIC waiting room
Virtual Healthy Lifestyle Fair - August 2021
May 2021 Breastfeeding Events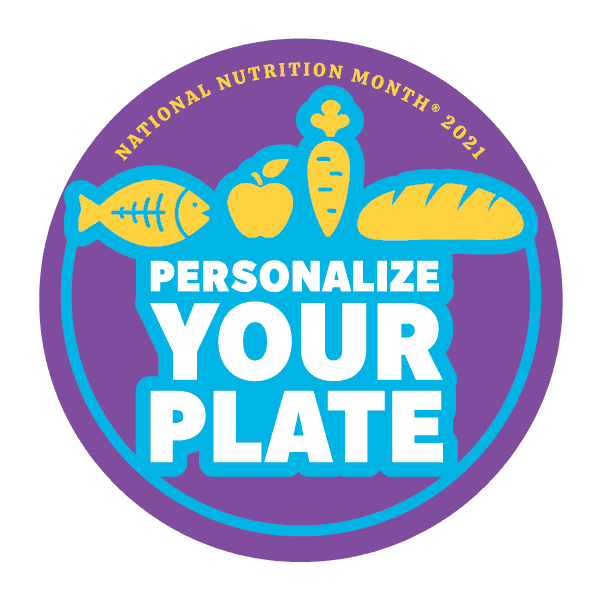 Celebrate National Nutrition Month - March 2021
WICstrong is helping the Morrisania WIC Program and the Academy of Nutrition and Dietetics celebrate National Nutrition Month this March 2021.
The folks at eatright.org have created these helpful Tip Sheets to make your Nutrition choices easier.
January 2021 Breastfeeding Events
National Nutrition Month 2020
Click on the image or link below: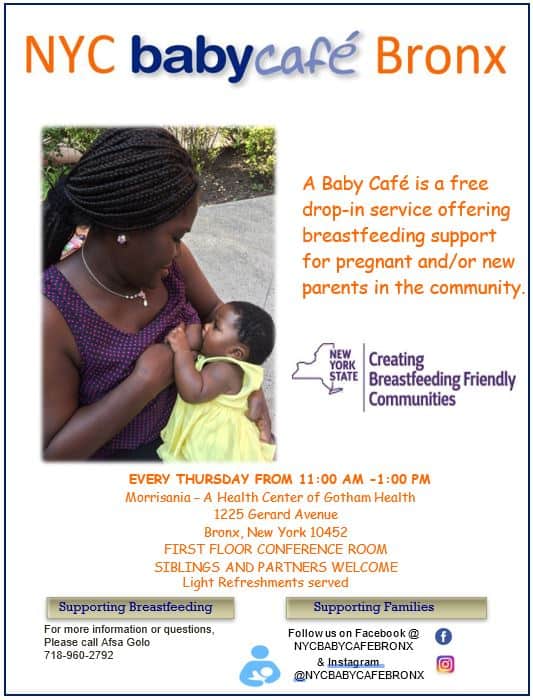 Literacy Inc. Presents Fundamentals of Early Literacy
Join Literacy Inc. and Morrisania W.I.C. for a parent workshop to talk about the four stages of early literacy and to share activities you can do at home to form healthy relationships and to prepare your children to be good readers.
A light breakfast will be provided. Each person will leave with a book and useful tips to help you get your children excited about reading at an early age.
DATE: WEDNESDAY, OCTOBER 24
TIME: 9:30 AM to 10:30 AM
LINC South Bronx Community
LiteracyINC
LOCATION: Morrisania W.I.C.
First Floor Conference Room (Blue Room)
1225 Gerard Avenue—Bronx, NY 10452
More Information
Ramadan and Breastfeeding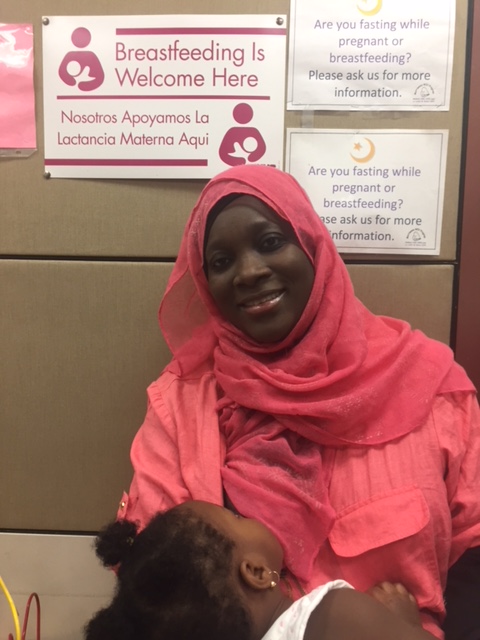 Ramadan Mubarak, Ramadan Kareem! Are the common greetings during the month of Ramadan. Ramadan is not a holiday. It is the ninth month of the Islamic calendar, the month of fasting, when Muslims do not eat or drink from dawn to sunset in order to receive spiritual rewards (thawab) that are also believed to be multiplied within the month of Ramadan. Besides fasting, they refrain from smoking, and engaging in sexual relations and all sinful behaviors. This is a special time to read the Quran, offer prayers and do charity. Pre-fast meals before dawn are referred to as Suhoor, while the post-fast breaking feasts after sunset are called Iftar. At the end of Ramadan, Muslims celebrate a one-day feast, called Eid-al-Fitr, which means "The Feast of Breaking the Fast".
At the Morrisania WIC's "Breastfeeding During Ramadan" event, our peer counselors discussed fasting and the recommendations of the Quran that Muslim mothers breastfeed for two years.
The good news is that the Quran provides relief for our mothers!  They must refrain from fasting during the lactating years as well as during pregnancy.  Will they lose the rewards of Ramadan? No! In fact, preserving their milk supply, feeding their baby and staying healthy are all acts of obedience and reverence to the laws of Allah. Mothers have the option to make up the fast at a later date when it is safe to do so, charitable giving (alms) or feeding a needy person.
Morrisania Healthy Lifestyles Fair
Save the date!!!
This year's fun and famous MORRISANIA HEALTHY LIFESTYLES FAIR will be held on Wednesday, August 29, 2018 from 11:00AM -3:30PM on GERARD AVENUE between 167th and 168th Streets.
Join us for another fabulous day focused on healthy lifestyles and enjoy games, pony rides, raffles, FitWIC, food samples, face painting, dancing, Zumba and more…
Details in English
En Espanol
Neoyorquinos: Conozcan sus derechos
Know Your Rights: New York Paid Family Leave
Know Your Rights: New York Paid Sick Time
Office Locations
Morrisania Diagnostic & Treatment Center WIC Program
1225 Gerard Ave.
Bronx, NY 10452
ph: (718) 960-2805
fx: (718) 960-2830

Monday - Thursday: 7:30am - 8:00pm
Friday: 7:30am - 5:00pm
Saturday*: 8:30am - 4:00pm

*Every 2nd and 4th Saturday of the month. 5th Saturday by appointment only.

The Morrisania WIC Program is CLOSED on the THIRD WEDNESDAY of each month.


Morrisania – South Bronx WIC Program
856 Longwood Ave.
Bronx, NY 10459
ph: (718) 991-2148
fx: (718) 991-2348

Monday, Tuesday and Thursday: 9:00am - 5:00pm
Wednesday and Friday: 8:30am - 4:30pm
Saturday*: 8:30am - 4:00pm

*Every 1st and 3rd Saturday of the month. 5th Saturday of the month by appointment only.

The Morrisania WIC Program is CLOSED on the THIRD WEDNESDAY of each month.