NYC H+H Elmhurst WIC Program
WIC is NOT considered as a Public Charge. WIC serves about half of all infant in the United States. All pregnant and postpartum women, infants and children up to 5 years old,  may qualify to receive WIC benefits. 
Welcome to Elmhurst WIC Program – The Most Diverse and Well Known Program
If you your interested in applying, please reach out!
Contact us:

718-334-3265
We are available:
Monday, Wednesday, Friday
8am – 5pm
Tuesday, Thursday
10am – 6pm
Saturday, Sunday:  Closed
Services We Provide
Nutrition Education and Counseling
Breastfeeding Support and Services
Maime Café – Open to all prenatal and postpartum breast feeding mothers every Tuesday from 3 pm- 5 pm
Peer Counseling – Mother to Mother support

Farmers Market – Summer/Fall Season Only
Photos Receive your Farmers Market checks to purchase fresh produce from the Farm to the Table
Coming to Elmhurst WIC Program feels like family. I learned about the program from my cousin. The first moment I entered the office I was greeted with a smile. I was given the tools I needed to understand eligibility, use the new eWIC card and the WIC2Go app. I was in my last trimester then and they educated me on how to feed my baby, what to expect at the hospital and how they were going to help me after the baby is born.
I feel like Elmhurst WIC has helped me in many different ways  –  giving free nutrition education  has helped me to offer my child more healthy foods to eat, buying WIC foods is easier and the app helps you see what you can purchase and where to purchase your foods.
As for the staff, they are always cooperative and helpful. They provided referrals to different community organizations that helped me and my family to better our lives. It was of great help being apart of this program and being able to receive the services it provides.
~Anonymous
March is Nutrition Month
Bite By Bite
Maime Cafe Mothers Day Celebration 2019
eWIC is now at Elmhurst!
At your next appointment you will need to bring:
Photo ID 
Proof of Address
We encourage our participants to also download the "WIC2GO" app. This can be downloaded on any smart phone device at the google play or app store.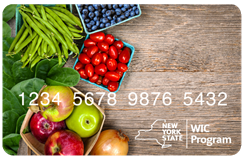 Health.ny.gov
WIC2Go
This smart phone application will allow participants to have:
Mobile access to their benefit information and expiration dates
Mobile access to appointments
Mobile scan device to scan foods at store to see if they are WIC approved
Easier checkout at the grocery store
Mobile location of clinics and WIC approved stores in the area
We hope this new system will be easy and convenient for our participants.
Formula Feeding Amount Recommendations
On average a baby should be taking about 2.5 ounces of formula per ever pound of body weight (453g). Most babies are satisfied with 3 to 4 ounces per feeding during the first month and increase that by 1 ounce per month until they reach the max 7 to 8 ounces.
How much should I feed my baby?
Most newborns eat every 2 to 3 hours or about 8 to 12 times a day
2 months of age: usually take in 4 to 5 ounces per feeding every 3 to 4 hours
4 months of age: usually take 4 to 6 ounces per feeding
6 months of age: may take up 8 ounces every 4 to 5 hours
Am I feeding my baby enough?
Daily diapers: Newborns should have 2 to 3 wet diapers a day within the first few days of life
After the first 4 to 5 days, a baby should have at least 5 to 6 wet diapers per day
Stool frequency and color varies depending upon whether an infant is formula fed or breastfeeding
Formula Preparation (Powdered):
Make sure bottle and work area are cleaned and sanitized
Formula does not need to be heated before feeding to baby. Do not use microwave to heat bottle. Place bottle under running hot water, test the temperature on the back of your hand
When using powdered infant formula: make sure the water you are using is from a safe source: Examples- Nursery water, filtered or bottled water, boiled water.
Use the amount of water listed on the formula instructions. Too much water can decrease amount of nutrients and nutrition the baby is receiving, too little water can cause digestive issues, kidney issues and dehydration. Always measure the water first, then add the powder.
Formula Storage:
Store unopened formula containers in a cool, dry and indoor place
Prepared infant formula can spoil if left out in room temperature. Use prepared room temperature formula within 2 hours. If you choose to save formula, refrigerate before the 2 hour mark.
Discard any left over formula, in the bottle, after feeding the baby. The mixture of babies saliva and formula can cause bacteria to form.
CHECK OUT THESE RESOURCES AS WELL:
Formula Preparation
Formula Recommendations, Preparation & Storage
Heart Health